Furnaces, Ovens, and Chillers
MTI Tube Furnace
MTI_furnace_vacuum_oven.jpg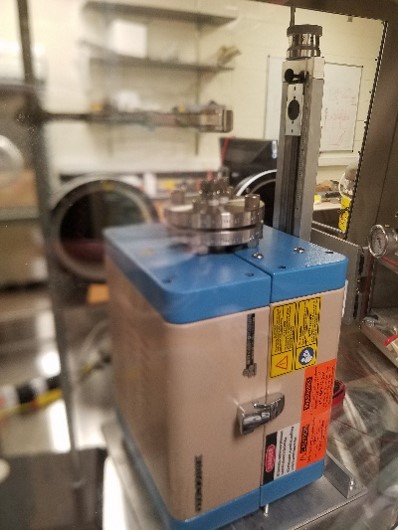 The MTI tube furnace can accommodate containers with a 2" outer diameter. It can achieve temperatures up to 1250°C. It is the ideal furnace for small-scale (1-100 grams) testing and development. It is frequently used for electroanalytical experiments in molten salt, but can be adapted to other small-scale experiments, including, but not limited to, halide volatilization, alloying, casting, and other pyrochemical operations.
Furnace Well
Furnace_Well_Controller.jpg
Furnace_Well_w-Furnace.jpg
The furnace well is attached to the floor of the argon atmosphere glovebox enabling the seamless transfer of air- and moisture-sensitive material into a heated environment. The 7kW Thermcraft furnace installed on the furnace well is able to reach 1000°C. The furnace well can accommodate experiments and processes on the kilogram-scale. A cooling flange at the top of the furnace well minimizes the heating of the main chamber of the glovebox. The furnace well is connected to a vacuum line and an argon line enabling the chamber to be evacuated and/or purged.
Drying Ovens
MTI_furnace_vacuum_oven.jpg
Moisture creates undesirable side reactions in pyrochemistry. Two vacuum drying ovens are available for dehydrating salts, crucibles and other equipment to ensure that material is free of moisture before performing pyrochemical experiments and operations. A large vacuum drying oven from Across International is capable of drying kilogram quantities of salt, can heat up to 250°C, and is equipped with a dedicated vacuum pump and cold trap. A smaller vacuum drying oven in the glovebox is capable of drying ~100 grams of salt, can reach up to 300°C, and enables seamless transition from drying to handling salts in the glovebox.
Chillers
Chillers are used in the laboratory to protect the gloveboxes from overheating and damaging seals. A Polyscience 5.2 kW chiller is used to provide a closed-loop chilled water supply to a heat exchanger in the glovebox and to the flange on the furnace well. A chiller is also used for the cold trap for the large vacuum drying oven to protect the pump from moisture.